In this tutorial we will demonstrate you to create and delete Database User using cPanel.
How to create a Database User?
1- Login to your cPanel account.
2- Under "Databases" section, click on "MySQL Databases" icon.
3- Scroll down to the "Add New User" section of the page.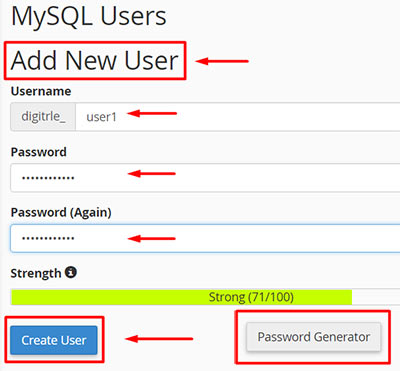 4- In the "Username" filed enter a new username for new user.
5- In the "Password" field, enter the password and repeat it in the "Password (Again)" field. Also, you can use "Password Generator" button to easily generate a strong passwords.
6- Click "Create User" button.
7- Navigate to the "Current User", to view new added user.
How to delete a Database User?
1- Click on "MySQL Databases" icon.
2- Scroll to the bottom of the page to find "Current User" section.



3- Look for the username you want to remove from the database and then click on "Delete" button to remove selected user.
4- Then you are asked if you are sure to delete the user or not. Click on the "Delete User" button to complete the deletion process.